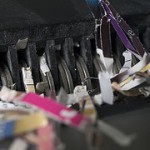 Secure document destruction in Chester is provided by Doc Data. By using cutting edge equipment and processes, Doc Data can provide fast document destruction services at a low-cost with minimal environmental impact. In fact, the company saves 14 trees for every ton of shredded paper, by sending all paper to the Elsa Recycling Group for recycling. The company can handle a task of any size, thanks to its collection equipment which ranges from 15kg security sacks to 60-90kg security bins and 35 cubic yard roll-off lidded containers.
In Chester, secure document destruction is best achieved with Doc Data. The emphasis is on the word secure here. Disposing of sensitive information requires a trustworthy, capable company. After all, an information leak, or a partially done job could result in a wide range of unpleasant consequences. This is why the teams at Doc Data use a state of the art security system with CCTV and alarms. The company's fleet of vehicles is also tracked through GPS, and all of the containers used to store your documents are completely secure. On top of that, at the end of every project, you are issued a certificate of destruction which states that all confidential information has been safely destroyed.
If you want to find out more about secure document destruction in Chester, give Doc Data a call. The company's credentials include a ISO 9001 accreditation, BSIA (British Security Industry Association) membership and adherence to the new British Standard BS EN 15713. The company's staff is uniformed and clearly identifiable and vetted to BS 7858. It's easy to see why the company has been around for 54 years, growing constantly, while providing big business quality services with the personal touch of a family run business. If security is your top concern, you can't pick a better company than Doc Data for your document shredding needs. To find out more about an effective and secure document destruction, contact Doc Data.