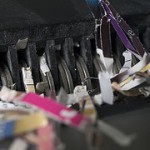 Choose secure shredding services in Altrincham to ensure your business is safe from ID thieves and fraudsters. In today's world, it is as important as ever to keep your clients' confidential information safe. As a business owner, it is up to you to remain in compliance with the data security act.  Data security law insists that everyone's data is correctly used and properly protected.  It is a legal requirement that you keep your clients' data safe. An effective way to do this is to have your clients' information securely shredded once they are no longer needed for business purposes.
Regardless of the size of your business in Altrincham, shredding services that we offer ensure that all your unwanted documents are effectively destroyed. As an established shredding company, we offer a nationwide confidential shredding service to handle all your requirements. Give us a ring to get started. We'll provide a recycling bin for all the documents that you need to shred. When it's full, give a call to schedule a time that suits you for us to collect the bin.  Our expert team will transport your old documents to our shredding facility. We have powerful shredding machines that will shred your documents in a fraction of the time you could with an office shredder. Once the shredding process is complete, we will send you a certificate of destruction to you. This is confirmation that your documents have been securely shredded.
Our shredding service in Altrincham is tailored to your specific requirements. All the documents we receive for shredded are recycled into consumable paper products. For more details on how we can assist you and your business our shredding service, contact Doc Data. Our shredding service meets the British Standard BS EN 15713. We are also members of BSIA. All our staff are uniformed, identifiable and vetted to BS 7858. Speak to our experienced team about your business' shredding requirements.